Happy Valentine's Day!
Whether you are looking for a way to impress your date, or you are spending the evening alone, there's really no situation that can't be improved by a super over-the-top decadent dessert, right? Make one of these loaded dishes for your Valentine, even if that person happens to be you -- these sweet treats are great company.
Soft pretzels are delicious, but they can be a lot of work to boil and bake. Fortunately, this super simple recipe for fluffy pretzels topped with chocolate chips, roasty toasty marshmallows and to-die-for chocolate sauce is as easy as it gets.
What better way to say "I love you" than by frying sweet dough into a heart shape?
The rich cheesecake filling is surrounded by silky chocolate mousse, creamy chocolate ganache and a thick Oreo crust, all combined to make the most glorious cheesecake you will ever taste.
This stunningly festive, bright red cake takes a few shortcuts, using red velvet cake mix, instant pudding mix and evaporated milk, but you'll never know it with these rich, sweet results.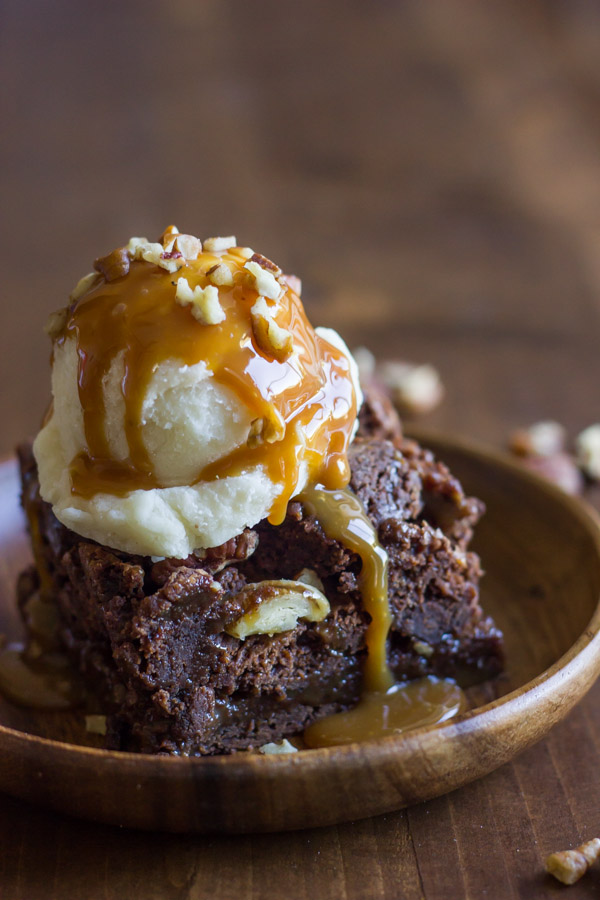 Craving something rich and fudgy? These brownies get layered with caramel and pecans. The only downside is that you might have to share with someone.
We love red velvet on Valentine's Day -- not only is the color perfect, but you also get that rich, luxurious chocolate that's perfectly romantic. If you want to make it even MORE red velvety, swap out the brownies for chunks of red velvet cake ... or even red velvet brownies!
If you're obsessed with dunking your Oreos in peanut butter ala "The Parent Trap," you'll fall in love with these easy-to-make cookies stuffed with marshmallow fluff and peanut butter and covered in chocolate and sprinkles. What's not to love about this easy dessert?
This heavenly fried dessert takes only 10 minutes to make, so if you want to focus your evening on your Valentine, you'll have plenty of time to spend eating these together.
Cut out the work of baking a cheesecake by turning it into a sweet yet ever-so-slightly tart, sensual and luxurious way to plunk your pretzels or cookies. The best part? That unexpectedly perfect thin layer of jam between the cheesecake and fruit.
If these savory-sweet masterpieces don't elicit an on-the-spot proposal, we don't know what will ...