Creme brulee is insanely decadent and delicious. There's something totally unique and special about breaking through the crunchy, caramelized shell to devour the thick, creamy interior that makes it the ultimate exciting dessert.
Take a look at this masterpiece of a dessert:
The spectacle begins when you see the torch come out!
When it bubbles like that, you know good things are happening.
Burn, baby, burn!
Look at how the sugar sizzles:
Watch that amazing crust form on this custard: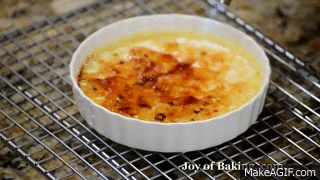 And then, finally, it is time to crack through that crunchy caramelized shell...
And dig into the thick, creamy sweet interior.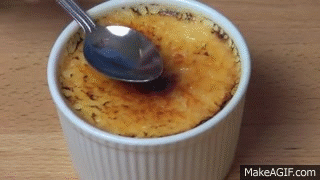 Shattering the hard sugar shell is just so satisfying:
We are drooling over here...
Go on, have a spoonful.
Throw some toppings on it for extra enjoyment.
Dig in!