On this momentous August 24, we have an extra special message for you:
That's right, it is National Waffle Day, and we are ready to turn up!
We love waffles so much, we'd bathe in them if we could.
We're pretty much always mentally prepared to dump a gallon of syrup onto a sky-high pile of pillowy, crunchy waffles at a moment's notice.
Because waffles are just so...
Incredibly...
Perfect!
If you are a true waffle lover, you fondly remember that landmark moment in your life when you got a waffle maker and realized that you are an adult now.
Which means that you can make all your syrup-pocketed dreams come true in a matter of minutes.
Or even seconds!
Whether those dreams are sweet and topped with chocolate and strawberries...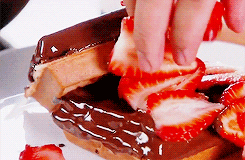 And maybe a little ice cream...
Or savory like these divine pizza waffles...
Or shameless like this ramen waffle breakfast sandwich, because why on earth not?
Get as crazy as you want -- we won't shame you for your waffley desires.
But one thing's for sure -- there's nothing like a good old tried and true classic.
You know what you need to do now.
Need waffles now? So do we. Here's what we're making right now. Feel free to join us!
Jalapeno Cornbread Waffles
Monte Cristo Waffle Sandwich