We're right in the midst of summer, and personally I'm not looking for anything that takes much time to whip up. 
I want to minimize my oven time and prepare bright, fresh dishes with a medley of smooth and crunchy textures that taste perfect on a patio on a warm summer's evening, ideally to be washed down with fresh peach cobbler and a tart, somewhat fruity cocktail. 
Granted, that's not necessarily always the way things go on weeknights, but you can certainly chow down on these easy dinners while you fantasize about migrating south for the summer:
Don't have ground chicken? Use whatever ground meat you have on hand, like turkey or pork, or make it even easier on yourself and use shredded or chopped leftover/rotisserie chicken instead.

Fish tacos might seem like a bit of a hassle, but these are actually really simple -- dredge your fish in flour and pan fry! This recipe recommends using just about any white fish, but you can mix things up if you want by using shrimp, salmon or even just bypassing the work and using frozen breaded fish.
LEFTOVER FRIENDLY. It might seem like gyros would require a lot of work to prepare the meat they way you're used to, but you can absolutely take shortcuts and use rotisserie chicken or another type of leftover meat to make this meal an absolute breeze. However, if you want proper lamb/beef gyro meat, here's how to do it. Vegetarian? Make it with homemade vegan seitan like so.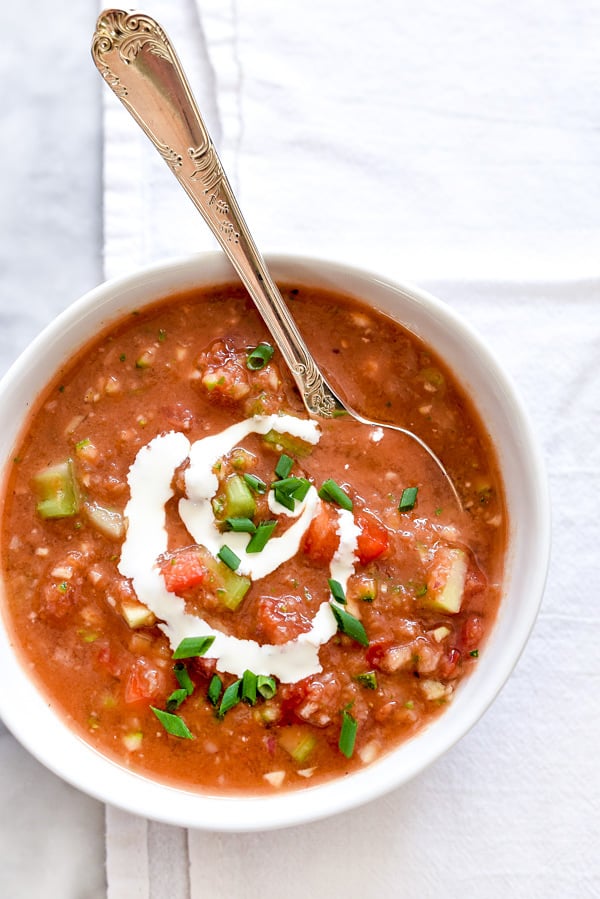 Ah, cold soup, for when it's too hot for life. Keep it classic with some cool cucumbers, ripe tomatoes and deeply flavorful red peppers. Or mix it up with some uniquely fabulous versions, from Tomato Watermelon with Pistachios and Basil Oil to Thai Spicy Tom Yum Goong Tomato.

With quick-pickled cucumbers, soy-sesame marinated raw salmon and a creamy sriracha drizzle, this is a perfectly refreshing (and easy!) summer dinner. Top with anything you like in your sushi or poke bowls, like avocado, masago, krab salad (shred your imitation crab and combine with sriracha and either Japanese or regular mayo with a drizzle of rice vinegar) and/or a Japanese omelet. You're welcome to use this with any other sashimi-grade fish, like tuna or scallops, or just use small cooked shrimp tofu or cooked fresh fish.
Three ingredients are all it takes to give your boring chicken breasts (or leftover shredded chicken, if you want to bypass the slow cooker) a facelift. Get as creative as you want. You can add sliced cucumbers, shredded carrots or celery, thin apple slices, bleu cheese or anything else your heart desires.

This would be absolutely brilliant atop some salad greens, crunchy tostada shells or tortilla chips! It's super easy too. Grab some cooked shrimp (frozen/thawed works great) and mix it with creamy avocado, crunchy onions and refreshing cucumber, and toss your usual spicy lime sauce aside for an exciting tart, herbal seasoning that features a few drops of sundried tomato liquid.