We're in the midst of a lifelong love affair with pretzels! There's just something so satisfying about that salty crunch in just about any form, but who can resist a nice sweet-salty combo?
If you love chocolate dipped pretzels as much as we do, put your beloved salty snacks to good use and mix them into delicious chocolate desserts. Here are some of our favorite ways to do it: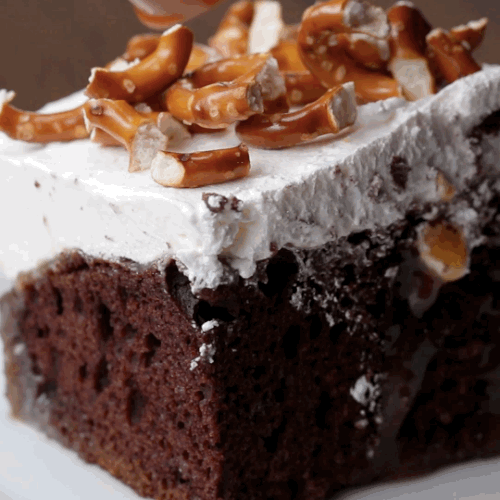 Caramel topping adds an extra beautiful layer of sweet-salty to the mix. Feeling ambitious? Try making your own caramel sauce from scratch (recipe here).
This is kind of just a super tasty, easy cheesecake recipe that doesn't involve a water bath or any of that mess. Plus, peanut butter and pretzels!
Don't forget about the underrated soft pretzel! Don't even think about going to the mall for it, either. Stay home and fold up these beauts for a real treat.
All your favorite things in one salty, sweet, crunchy sip. Feel free to customize it by adding or subtracting chocolate, swapping out the Nutella for peanut butter, or drizzling in some caramel sauce. Sky's the limit.
Yes, we said peanut butter pie. The coolest part about this one is that you can freeze it indefinitely until you *need* to eat it. Good luck.
Your favorite classic 'chips but with a little something-something extra to bring back that spark.
If you want to kick up the flavor a little more, add a tablespoon of instant coffee granules to really bring out the deep chocolate notes, and sprinkle a little extra salt over the top of your batter. You can even add a thin layer of cookie dough on top of the brownie batter if you want to go HAM.
Don't worry, this isn't really a salad. It's just strawberries, Jell-O and creamy filling atop a pretzel crust. But no one needs to know that if you want to tell them you're eating healthy.