By Yasmine Cardenas
 

View this post on Instagram

 
 This one is for all the Tonight Dough fans out there. Ben & Jerry's is introducing two products alongside its popular pint: The Tonight Dough Chunks and The Tonight Dough Non-Dairy.  
Audiences can now enjoy a frozen cookie dough option or a non-dairy option. The pint hit freezers in 2015 to celebrate Jimmy Fallon's takeover of the Tonight Show- the longest-running talk show in U.S. television history. Since then, it has become a fan-favorite among the Tonight Show fans and Ben & Jerry's fans.   The Tonight Dough Chunks is a spoonless option that includes a mixture of chocolate chip cookie dough and chocolatey coated peanut butter cookie dough chunks.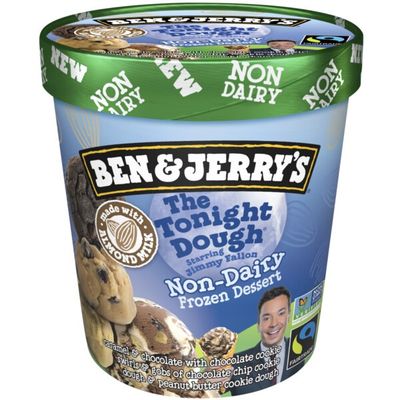 The non-dairy counterpart features almond milk and is 100% vegan certified.   On Wednesday Night, Fallon announced the two products on the show. He reminded viewers that 100% of the proceeds go to SeriousFun Children's Network of global camps for children with serious illnesses.  
Since 2015, the Tonight Dough pint has helped raise $3.6 million for the SeriousFun Children's Network.   "Thank you so much to Ben and Jerry's. Thank you to everyone who buys our ice cream, you're helping a lot of kids out. I appreciate it," said Fallon.