I love brownies so much, I should just marry them!
Brownies are just the freaking best, am I right?
The rich, chocolaty, densely cakey dessert is just perfection -- in any form.
Even the batter is heaven.
Pro-tip: Add a couple spoonfuls of black coffee to your batter for a subtle yet deeply complex flavor hint. You can thank me later.
Tell the truth: how badly do you want to lick this spoon right now?
Or do you have way more self-control than me and you'll wait until it's fully cooked to have your bite? I applaud that, I really do.
Enjoy this delightful downpour of snowy powdered sugar for your troubles!
That's right! Pile that stuff on!
I'll even take them in molten mug form ...
Because brownie goo is the best kind of goo.
Especially when you top it with a big scoop of vanilla ice cream.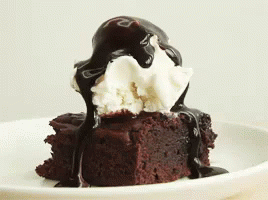 Or a big drizzle of caramel, because obviously!
And don't you dare forget about the brownie's sexy, scrumptious cousin, the buttery, vanilla blondie.
SO GOOD.
Whatever form you prefer -- enjoy!