Twinkie recall alert! If you bought any Hostess holiday Twinkies, you might want to double-check that they aren't contaminated with salmonella poisoning.
A CNBC report states that Hostess Brands issued this voluntary recall on Jan. 10, 2017, and it's specifically for the White Peppermint Twinkies. The ingredient provided for the sugary coating that separates these from regular Twinkies might possibly be contaminated with salmonella.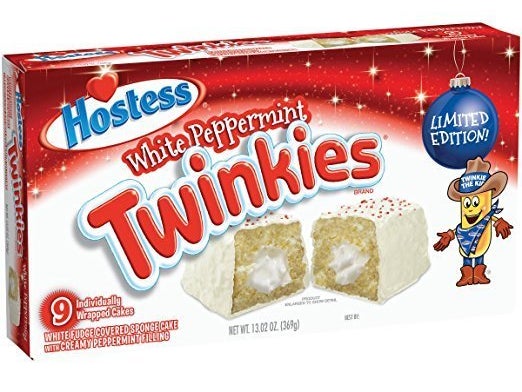 The offending ingredient is a milk powder that has been recalled by Valley Milk Products. They were the suppliers of the milk powder to the company that made the confectionary coating on the Twinkies, Blommer Chocolate Co., who then supplied the coating to Hostess. Luckily, this possible contamination was caught before anyone was reported sick, according to Huffington Post.
The recall is more of a "better safe than sorry" type of deal, which means you don't have to panic if you've been eating the cakes and haven't gotten sick yet. Just be wary.
You might remember our post from December about a mac and cheese recall because of the salmonella contaminate from the same company. It was also the powdered milk that was the culprit. During the last recall, the FDA raised concern over the cleanliness of the company. I can't imagine they haven't landed in hot water for having the same problem two months in a row.
The affected milk powder products were sold from Dec. 5, 2015, through July 10, 2016, but Valley Milk says that Virginia (the company's home state) did not identify salmonella in any of the products. Once again, the motto here is "better safe than sorry."
One company spokeswoman told The Huffington Post that "Valley Milk has notified all direct customers that received product under the recall. Our staff is working diligently with those direct customers to notify downstream customers of the recall."
If you or someone you know has purchased the holiday White Peppermint Twinkies, Hostess urges you to return the snack to where you purchased them for a refund. Hey, this could work in your favor if you have a weight-loss resolution for New Year's, right? Just looking on the bright side.