Happy National Lobster Day! We love lobster a ton and are totally thrilled to celebrate.
We love ourselves a good lobster tail, and we have to admit, this animated one looks as good as the real thing:
We're more in the mood for a stuffed tail, actually...
Or maybe, if we're feeling more innovative, we'll go for a lobster grilled cheese...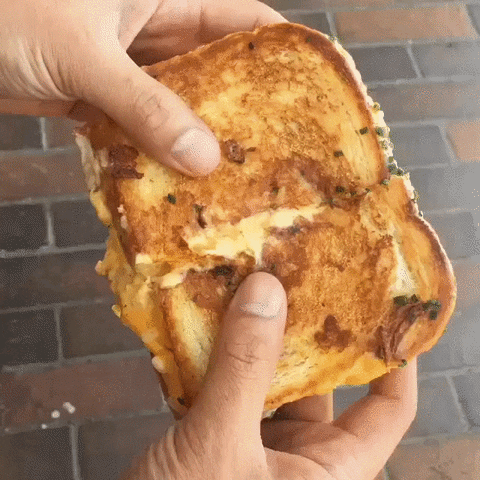 Or maybe a perfect, decadent lobster roll.
We might even make it ourselves.
French fries and a lobster roll count as a balanced meal, right?
Whatever the form, we can't wait to gobble it down.
Want to cook up a lobster dinner that will make Beyonce proud? It's easier than you think – all you have to do is get a couple of lobster tails (or a live lobster if you can handle that) and boil them.
They are so packed with flavor that this is truly all you need to do. Lower the heat to a low boil and cook the tails for 3-3 ½ minutes, or around five minutes for live lobsters. The shells will turn bright red and the tail meat will be firm and opaque when done, kind of like shrimp. Be careful not to overcook these guys. Once you remove them from the water, let them sit for three more minutes, and test a small piece if you want – if the lobster is opaque all the way through, you're good!
Serve with melted butter and lemon wedges and enjoy the heck out of that thing.
If you want to mix it up with a truly unique recipe, here's how to grill lobsters in miso-chile butter (recipe here).
More into lobster rolls? Give this classic recipe a try (recipe here). You can probably also get away with langostino lobster for this if you want to be a little more budget-friendly -- just don't tell Maine. If you prefer your lobster warm and buttery, chop it up and toss it with a hefty dose of butter instead of mayo and serve immediately.