Get Into The St. Patrick's Day Spirit with Krispy Kreme's The Luck O'The Donuts Collection
By Yasmine Cardenas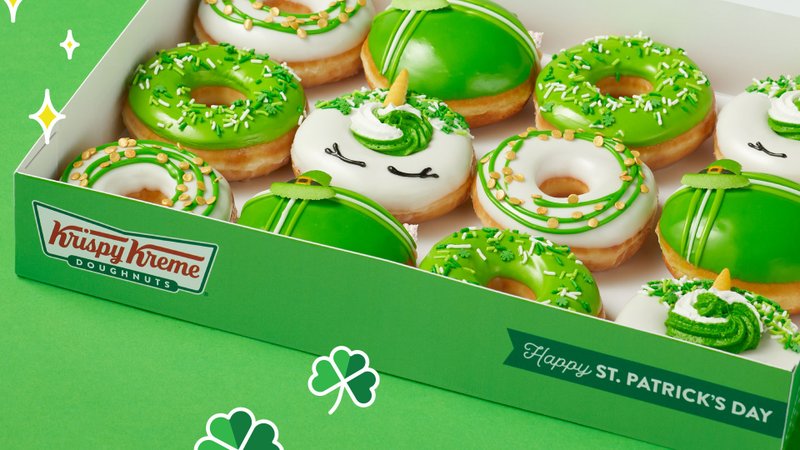 Krispy Kreme is bringing a bit of luck to its stores this St. Patrick's Day! Beginning March 11, Krispy Kreme will be offering four new doughnuts in their Luck O'the Doughnuts Collection.
The Luck O'the Doughnuts Collection includes these whimsical varieties that are sure to bring luck your way:
1. Lucky Unicorn Doughnut:
This is an Original Glazed doughnut filled with Kreme dipped in white icing and decorated like a charming unicorn.
2. Lucky Leprechaun Doughnut:
A Cookies and Kreme-filled doughnut dipped in green icing, decorated with plaid stripes, and topped with a Leprechaun Hat sugar piece.
3. Lucky Gold Coin Doughnut:
An Original Glazed Doughnut dipped in white icing, decorated with green icing swirl, and sprinkled with lucky gold coins.
4. Lucky Sprinkles Doughnut:
An Original Glazed doughnut dipped in green icing and topped with a shamrock sprinkle blend.  
This collection is available by the dozen and will contain each of the four magically delicious doughnuts.
On March 16 and 17, Krispy Kreme is bringing back its famous Original Glazed Doughnut. It is their Original Glazed doughnut with a magical green twist, available by the dozen. Guests who wear green to a Krispy Kreme store (in-store, drive-thru, or pickup) can earn a free green doughnut.
"Come get a taste of our Luck O'the Doughnuts Collection now through St.Patrick's Day. And to top it off, on March 16th and 17th, you'll get a free, delicious green Original Glazed Doughnut if you wear green!" said Dave Skena, Krispy Kreme Chief Marketing Officer, in a press release.
Don't get crisis this holiday. Instead, throw on a green shirt and get your free Krispy Kreme doughnut!