If it ain't broke, don't fix it. Unless you're KFC, then fix away. Today, the seasoned fried chicken chain announced that they have improved a beloved classic—the fried chicken sandwich. Let's take a look.
Every fried chicken sandwich worth its seasoning is going to have the same basic components: a bun, the chicken itself, pickles, and
—
with discretion—special sauce. KFC ensures us that the latest iteration of their take on this comfort food staple has been given thought. And care at the level of each ingredient: the bun a freshly-toasted butter brioche. The chicken is double-breaded, all-white, and a hefty quarter-pound, the pickles thick and crispy. The sauce just the right amount of creamy mayo or kicking spicy sauce. And, KFC promises, the sandwich is made fresh to order, steaming hot, and ready for your taste buds.
KFC shows no hesitation in making sure we know just how much work they've put into this sandwich. Apparently, they tested pickles of eight varying levels of thickness. And worked with six different bakeries on ten distinct recipes to find the perfect bun. That's more research than I did on my senior thesis. As Andrea Zahumensky, chief marketing officer of KFC U.S. proudly states, "we're playing to win."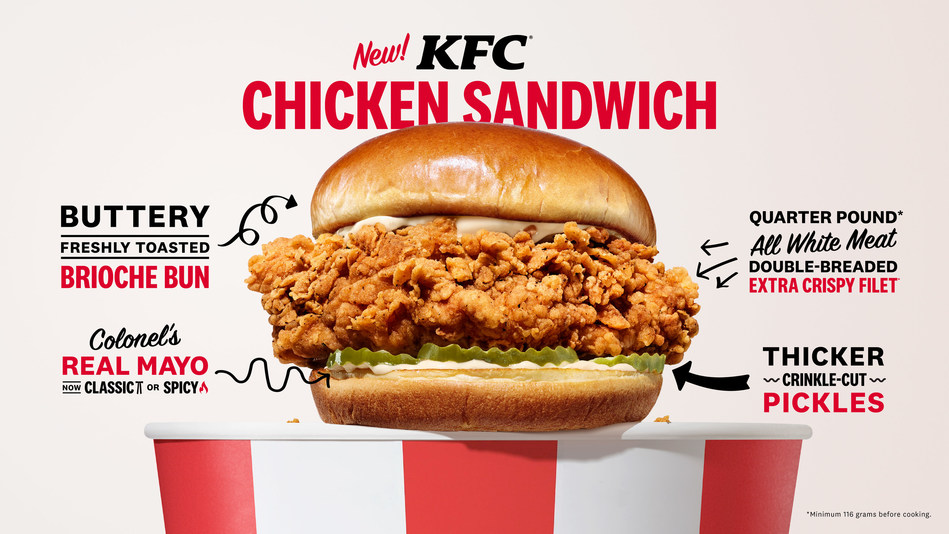 And it appears their work has paid off. Sales of the sandwich doubled KFC's sales expectations when tested in Orlando. One customer even called the sandwich "a life-changer". Sounds like a good way to get that "new year, new you" you've been telling your friends about.
The best part of this launch is that it is in no way limited: KFC plans to roll out this gastronomical glow-up starting today to be available in all 4000 of their U.S. restaurants, seven days a week, by the end of next month. The sandwich will be available for an easy $3.99 à la carte, or you can get it in a combo with KFC Secret Recipe Fries and a medium drink for $6.99.
If your mouth is already watering like mine, pop on over to kfc.com/findthesandwich to keep track of when the crave-worthy concoction will hit stores near you.