Starting this Friday, Krispy Kreme will be launching their Nicest Holiday Collection, which is made up of TWO brand-new festive donuts (so get excited) along with a returning fan favorite! Their newest donut is the Festive Tree Donut, which is made of a Red Velvet Cake Batter-filled donut. And dipped in cream cheese icing and decorated with a Christmas tree on top. I don't know about you but I'm already excited about Christmas!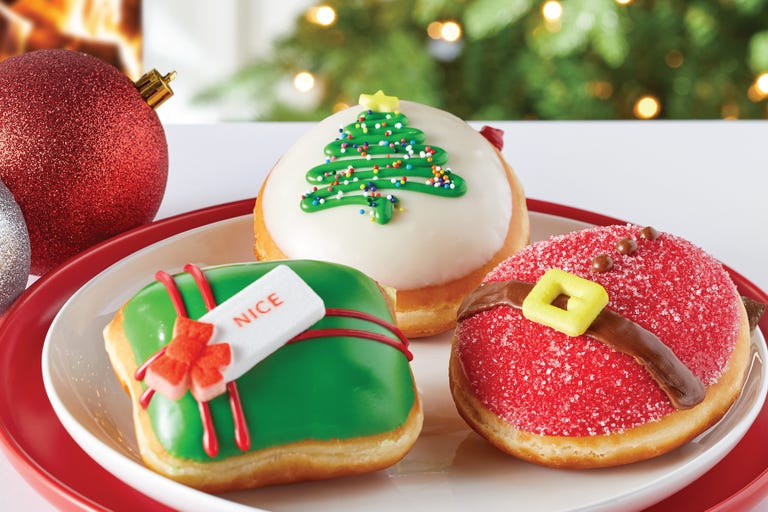 Their second donut is the Present Donut - so if you are not already in the holiday spirit, you definitely will be with this donut. It is a Sugar Cookie Kreme-filled donut that is dipped in green icing. And decorated with a ribbon - a sugar piece tag dubs you to be "nice." And the infamous Santa Belly Donut (which was a fan favorite) will be returning yet again!. If you missed it last year, it's a Chocolate Kreme-filled donut dipped in red icing. And granulated sugar and decorated with chocolate icing and a sugar piece belt.
3 krispy kreme doughnuts and a cup of hot choco for this kind of weather! 😋

— 𝗡𝗘𝗟`🍑 (@arnelvnrlopez) November 27, 2020
These Holiday Donuts from Krispy Kreme will be available starting this Friday and will run through December 24th in a super cute, limited-edition gift-wrapped dozen box. Plus, Krispy Kreme confirmed they will be having their annual "Day of the Dozens" again this year on December 12th. That's the day to mark your calendars folks because they're offering a special price on dozens of donuts.
Also, their Gingerbread Glazed donut will be back on December 16th. And last but not least, the chain will be giving all mail, parcel, packages. And delivery drivers who visit Krispy Kreme next Monday, November 30th, a free OG glazed dozen! Yes, they're in the giving spirit! Just show up in your employee badge or wear your work uniform to claim. Surely now you're in the holiday mood.