By Yasmine Cardenas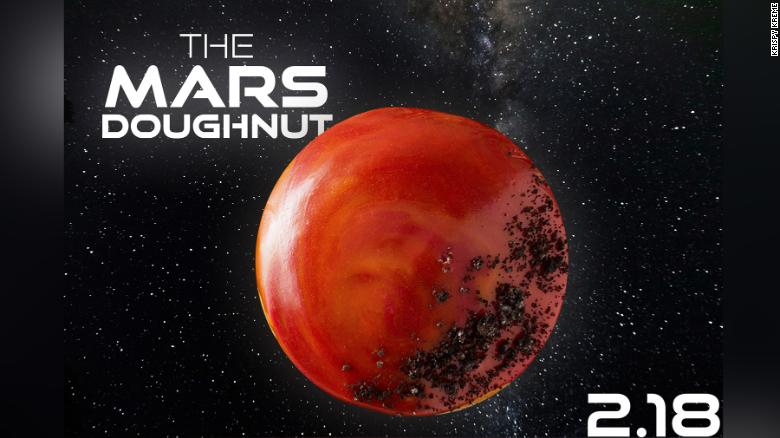 Firstly, Krispy Kreme is bringing Mars down to Earth on February 18 to commemorate the landing of NASA's Perseverance rover. To mark this rare occasion, Krispy Kreme will be offering the Mars Doughnut that will be available only on Thursday.
This limited-edition Mars doughnut is caramel-dipped, chocolate creme-filled, and topped with a swirl that resembles the 'Red Planet.' It is also topped with chocolate cookie crumbs to resemble the planet's rocky surface.
"The landing of Perseverance on Mars will be an epic and important achievement," said Dave Skena, Krispy Kreme chief marketing officer, in a statement. "So we're celebrating the best way we know how: with an amazing new doughnut discovery right here on Earth."
NASA's "Send Your Name to Mars" campaign put nearly 11 million names on the rover before it set out on its mission to Mars. Participants of the campaign are eligible for a free donut on Thursday. Present your "boarding pass" and enjoy your Martian treat.
Perseverance is NASA's most sophisticated rover to date and is the first mission that will search for signs of ancient life on the planet. And this mission could help answer the question of whether life was ever-present on Mars.
The rover is expected to land on the surface of the planet around 3:55 p.m. ET on Thursday. The team at NASA will be live streaming the countdown and landing commentary beginning on Thursday at 2:15 p.m. ET.
You can tune in to the live stream via NASA's public TV channel, website, app, YouTube, Twitter, Facebook, Linkedin, Twitch, Daily Motion, or THETA.TV. For the first time, NASA will also offer a Spanish-language channel for the rover landing.
There is no better way to celebrate an exciting space mission than tuning in and eating a planet-themed doughnut.
In addition, Will you tune in? Or will you just enjoy your delicious Martian doughnut?
Enjoy and let us know!