Pillsbury has released their brand new Mean Girls Toaster Strudel - did someone say "so fetch?" We knew it was you, Gretchen Wieners! The 2004 movie Mean Girls was iconic and has a cult following to this day. Pillsbury made sure to have pink icing, and not just that, but that it was appropriately pink-filled too. Was there any other way to do it?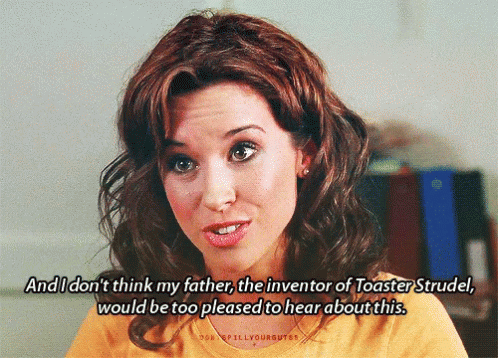 Now who remembers this line? "I don't think my father, the inventor of Toaster Strudel, would be too pleased to hear about this." That was a classic Gretchen line - and it was clever marketing for Pillsbury to print a slightly revised version of the infamous line on their box packaging: "I think my father, the inventor of Toaster Strudel, would be very pleased to hear about this."
And they got real-life Gretchen Wieners herself, or rather, Lacey Chabert. Yup, Toaster Strudel strategically partnered with Lacey to launch "The Most Fetch" Toaster Strudel Icing Sweepstakes. You can enter today because the boxes already hit the grocery store shelves as of September 9th. Each box has six toaster strudels and is around $3. Did we mention they also come in two delicious flavors? The first is strawberry-flavored and the second is cream cheese and strawberry. And yes, don't worry - they both come with the super cute bright pink icing.
Back to how to enter the sweepstakes - all you need to do is take a photo with your Toaster Strudel topped with a design featuring the limited-edition pink icing and take it to your social media. That's right - all you have to do is throw it up on the gram or tweet it by September 20th and be sure to use the hashtag #FetchSweepstakes and tag @ToasterStrudel in your caption.
Here's the best part - winners will receive a personalized video message from the very own Lacey Chabert, a whole year's supply of Pillsbury Toaster Strudel plus some fun Mean Girls merch too. Byeeee - we're going to enter the contest pronto!
[embed]https://twitter.com/kferry33/status/1304802994857410560?s=20[/embed] [embed]https://twitter.com/StudleyEsq/status/1304072922458402818?s=20[/embed] [embed]https://twitter.com/AlNSISERA/status/1302341428803141633?s=20[/embed] [embed]https://twitter.com/aliblynch/status/1304974723491794945?s=20[/embed]