We have some comfort food for you today, in case you are stressed out. So go ahead and sit back and enjoy some enticing foodporn. 
1. Mac
Everyone loves rich, creamy, gooey mac and cheese.
Look at how amazing this homemade stuff is, with a nice thick layer of cheese melted on top.
Here, have a big cheesy bite.
Craving a nice bowl of shells and cheese? Here is how to make the creamiest, dreamiest, cheesiest mac and cheese ever.
2. Sweet
Need a decadent pick-me-up? How about a nice frappe?
Make sure to load it up with whipped cream.
And a drizzle of caramel sauce too!
Everybody loves the taste of a nice, creamy, coffee-y Frappuccino. They are pretty easy to make at home, so feel free to knock yourself out with this recipe! Add caramel, chocolate syrup, crushed up cookies -- whatever you are in the mood for.
3. Chicken
Of course, everyone loves a good nugget.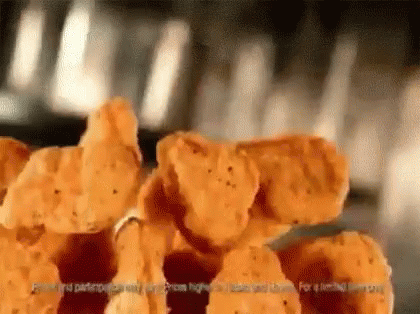 Crispy and crunchy on the outside, warm and tender on the inside.
We wouldn't mind an endless supply of these breaded wonders.
Here's how to make the best ever chicken nuggets. http://allrecipes.com/recipe/161469/the-best-ever-chicken-nuggets/
4. Protein Bombs
Stressed out but want to keep it paleo? Don't underestimate the joys of creamy avocado and crispy, smoky bacon.


Is it still "healthy fat" if you eat a boatload of it wrapped in bacon? We're going to say yes.
Can't you just smell that sizzling bacon?
Fill up on these bacon-wrapped avocado snacks.
5. Noodles
More in the mood for carbs? We got you with this yummy Fettuccine Alfredo.
Sprinkle pounds of cheese on it, because why not?
Look at how gorgeous those noodles are, cranking through that machine.
Here's how to make this super rich, indulgent lobster Fettuccine Alfredo.
By the way, here are two hamsters eating pasta, in case you need it: