We hope your Easter basket is full of Starbucks gift cards this year, because the Cadbury Creme Egg Frappuccino is here, and you want it. We know that Starbucks is all about the holiday spirit, and though many people think they skip over Easter, that isn't the case. If you didn't know about the secret Starbucks menu, you do now, and we've got you covered when it comes to this hidden gem.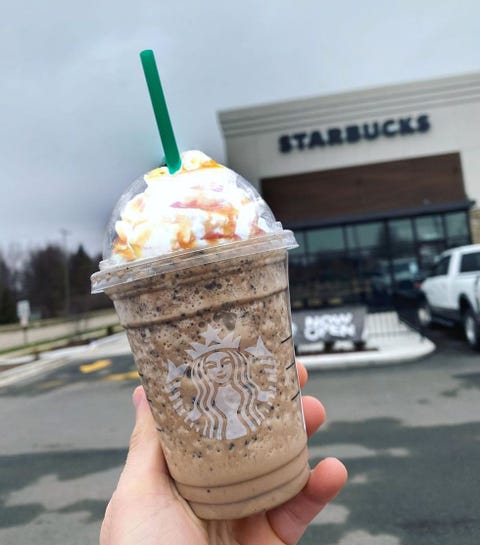 (Source: SnackGator/Instagram)
Here's how you order: first, let your Starbucks barista know you're about to order the Cadbury Creme Egg Frappuccino off the secret menu. The barista may already be familiar, but especially if you're ordering on your mobile app, you'll want to break it down anyway to make sure you get exactly what you want!
[sc name="trending-articles" ]
Order a Java Chip Frappuccino in your favorite size, then add one pump of Frappuccino Roast for a tall (two for grande, three for venti), one pump of vanilla syrup (one and a half for grande, three for venti), a half pump of caramel syrup (half for grande, one for venti), and two scoops of vanilla bean powder (three for grande, four for venti). Then kindly ask your barista to blend it up, add whipped cream, and top it all off with chocolate and caramel drizzle. Now it's no secret that this isn't the cheapest drink on the menu. With all these yummy add ons, you'll likely spend about $7.50 for a grande, but treat yourself because you deserve it. Spring just got a little tastier!