There's really nothing like fluffy, delicious, whimsical cotton candy to bring you back to your childhood.
The torch-shaped candy stands like a beacon to all those fond of sugary treats.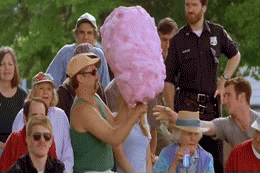 And what is more of a welcome sight then someone rolling up colorful fluffed sugar?
We'll never not be thrilled when we see someone doing this.
Or this, because this man has serious swagger.
Cotton candy makers are ARTISTS. LOOK AT WHAT THIS MAN IS DOING.
WATCH THIS DELICIOUS SORCERY.
That man is a wizard, and cotton candy is a 100% magical food. Look what happens when you pour liquid over it:
SERIOUSLY. THIS IS A THING.
Maybe one day, we'll get lost in a fluffy cotton candy cloud and all our dreams will come true.
Cotton candy, we love you forever.