By Yasmine Cardenas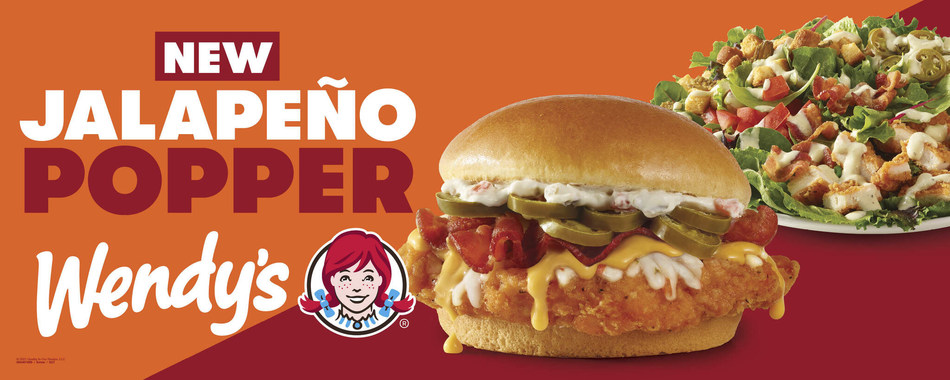 Wendy's is heating the 'chicken wars' competition with the addition of the Jalapeño Popper Chicken Sandwich. And its salad counterpart to its menu already packed with chicken sandwiches.
This sandwich and salad is design for fans needing a serious chicken upgrade that packs a punch.
The Jalapeño Popper Chicken Sandwich:
combines Wendy's classic spicy chicken fillet, three strips of Applewood smoked bacon, warm cheddar, and shredded pepper jack cheese. With a layer of creamy jalapeño cream cheese and topped with six jalapeños to accentuate the heat. All of that is placed between a premium toasted bun to create a sandwich. That will surely turn the heat up on the taste buds.
The Jalapeño Popper Chicken Salad:
boasts the same delicious ingredients but with a Wendy's twist. The salad contains a bed of romaine and spring mix lettuce blend, diced tomatoes, crispy jalapeño. And cheddar croutons for an added crunch and topped with a creamy jalapeño ranch dressing.
"Inspired by classic jalapeño poppers fans know and love, my culinary team took the familiar flavors of the beloved appetizer and gave it a unique Wendy's twist only we can deliver," said John Li, Vice President of Culinary Innovation at Wendy's, in a press release. "The new Jalapeño Popper Chicken Sandwich and salad brings Wendy's fans a bold, innovative flavor they can't get anywhere else."
The sandwich and salad are both available at Wendy's locations starting Wednesday.
Customers who are looking to get their hands on the Jalapeño Popper Chicken Sandwich can do so for free through Grubhub with $0 delivery on orders over $15 or more. It will be from February 18-21 or until supplies last. You can also purchase the sandwich for $5.99 or the salad for $6.79 via Wendy's drive-thru or contactless delivery with Doordash, Grubhub, Uber Eats, and Postmates.
In conclusion, As the 'chicken wars' rages on between the fast-food chains. We can definitely see chains like Wendy's embracing innovation on the classic chicken sandwich and we're not mad about it.