Feeling lazy? We have just the thing for you.
We understand how it is on weeknights. You are exhausted and hungry, and all you want is to grab an impossibly quick dinner, which usually turns into ordering out. But the thing is, you can have fast, effortless weeknight dinners, especially if you are willing to do some prep work ahead of time, and they will taste incredible.
Prepare a double batch of your favorite one-dish meal and toss it in the freezer until you are ready to dump it in your slow cooker or pot. Does it get any easier? We think not!
Here are some super simple, delicious and nearly mess-free ways to make dinner in a flash:

We love that this one only requires a few ingredients, but the coolest part is that you can totally put it all together and then toss it in the freezer until you're ready to thaw and cook. We can also see this going amazingly with some whole red potatoes and halved yellow corn cobs -- just add them in about halfway through the cooking cycle.
Here's the best part: You only need three ingredients for this dish. THREE! And two of them you can find in your pantry. If you want to amp this dish up, you can throw in your favorite fresh or frozen veggies, and/or swap out the pork for chicken. Either way it will taste delicious with minimal effort.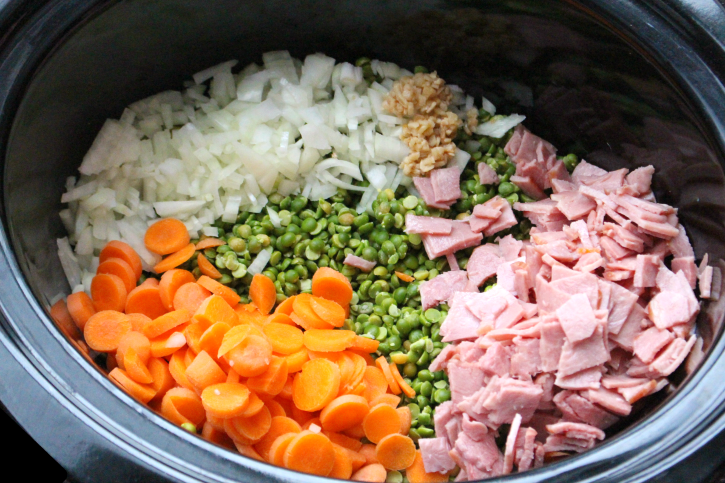 If you're looking for something warm, hearty and healthy while you ride out the last of these chilly winter weeks, grab some dried split peas and toss them in the slow cooker with bacon and a bunch of diced fresh or frozen veggies. Eat this one with a spoon straight out of the Crock Pot if you're in the mood. We won't judge you.
Now that you know how to make your favorite fast food dish in the slow cooker, is there really any reason to get takeout? By the way, you can make rice ahead of time and freeze it, making your dinner even simpler. Here's how to do it.
Honestly, we're pretty sure that this tender homemade version of broccoli beef is even better than takeout. BTW if you want to make this with the sweet fire chicken, you can make them both at the same time! Here's a simple, thrifty way to make a slow cooker divider. http://www.delish.com/food-news/a49167/this-slow-cooker-hack-will-chan/
​
In case you wanted something a little quicker than a slow-cooker meal, consider this impossibly simple dish: a handful of stuff you have in your pantry, plus some chicken breasts (or thighs, but they'll probably cook faster) and a sprinkle of cheese. Add red peppers, corn or sweet potatoes if you want. By the way, you can totally make this in the Crock Pot if you're so inclined. We recommend cooking it around six hours on low or until the chicken is cooked all the way through.
What is Sunday sauce, you ask? Sunday sauce is the most delicious ever homemade red sauce, complete with tender bits of rib meat in it.  If you don't feel like going through the trouble of browning all the ingredients, you can absolutely just toss it all into the slow cooker right off the bat. Yum!