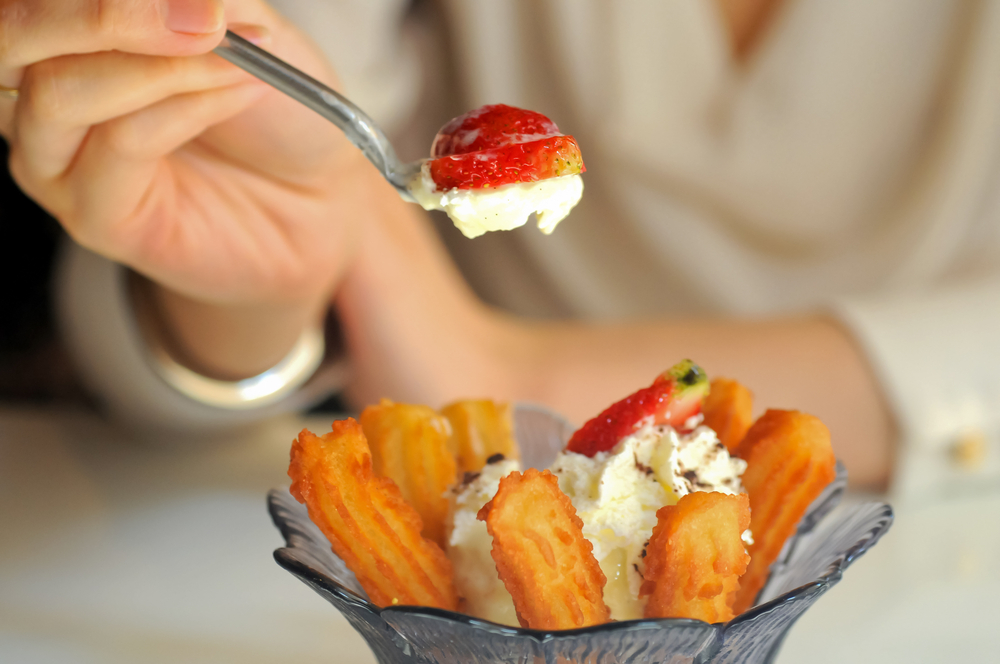 In the past few years, Churros have really taken on a craze of their own. They have become super popular and we have seen tons of trendy recipes pass our eyes while we surfed the world wide web. Truth be told with summer coming up this little item couldn't have come at a better time. Churro ice cream bowls are becoming the latest trend. Everyone loves ice cream for summer, but it's nice to switch it up and do something different. Well, this Mexican fried food gave us all some inspiration and deliciousness when people decided to turn it into a bowl for ice cream.
Why a churro? Why not a churro? Deep fried cinnamon sugar with a ice cream? Um yes, please! It might just be the new "fried ice cream" in Mexican restaurants around the country or at least that's what we are all secretly hoping. Get on board! This tasty treat is easy to eat and easy to make a home. Almost like a waffle cone with foodie flare!
This recipe from Tasty.com is making its rounds as people try to mimic the delicious trendy bowl at their own homes. Here is the full recipe:
Ingredients
for 8 bowls
• ¼ cup (55 g) butter
• 2 tablespoons brown sugar
• ½ teaspoon salt
• 1 cup (235 mL) water
• 1 cup (125 g) flour
• 1 teaspoon vanilla
• 4 eggs
• cooking spray
• oil, for frying
• cinnamon sugar
• ice cream
• hot fudge, optional
• caramel sauce, optional
EQUIPMENT
• 1 piping bag, with a small star tip
• 1 muffin tin, 6 to 12 cups
Preparation
1. In a 1.5-quart saucepan over medium-high heat, add butter, brown sugar, salt, and water, and bring to a boil.
2. As soon as the butter has fully melted and the mixture begins to boil, reduce the heat to medium-low and add in flour. Using a wooden spoon, stir until the dough comes together to form a ball (about 1 minute).
3. Remove from heat and let cool for 5 minutes before proceeding to the next step (to prevent accidentally cooking the eggs).
4. Mix in the vanilla extract and add in the eggs, one at a time, being sure to fully incorporate each egg before adding the next.
5. Once all the eggs are incorporated, transfer it to a piping bag with a small star tip.
6. Invert a muffin tin and spray thoroughly with nonstick cooking spray. Pipe the dough around the inverted cups in spirals to form the bowls. Immediately transfer the tray to the freezer and freeze until solid (about 3 hours or overnight).
7. Heat oil in a deep pot to 350˚F (175˚C). Remove the muffin tin from the freezer and flex it to release the churro bowls (you may need to also use a butter knife under the bottom edge to initially release them). Return any extras to the freezer while you wait to fry.
8. Fry them in batches, until nicely browned, no more than 3 minutes at a time. Be sure to carefully turn them so they fry evenly.
9. Once desired color is reached, remove them from the oil to a paper towel-lined plate. Dab off any excess oil then roll them in cinnamon sugar.
10. Fill with your favorite ice cream and toppings.
11. Enjoy!
So, would you eat this tasty treat or try your own take on the incredible Churro ice cream bowl? Also if you're not up for making your own churro bowl you can always get your own. One of the most popular places to try this tasty treat is at Milky Lane in New Whales Australia. This happens to be where most of the Instagram photos you will see trending on social media is from. Thank you, Australia for these ideas. There are chocolate sauces, caramel sauce, and even Nutella versions of this delectable dessert.
Honestly, the heat can't come fast enough for me. I need to give this churro bowl thing a try. Will you make yours at home? Take a vacation to Australia? Or try to find a Churro Bowl spot on Yelp.com? Either way, these look absolutely delicious. Just take a look at the social media posts if you don't believe me. I mean, that's scrumptious!