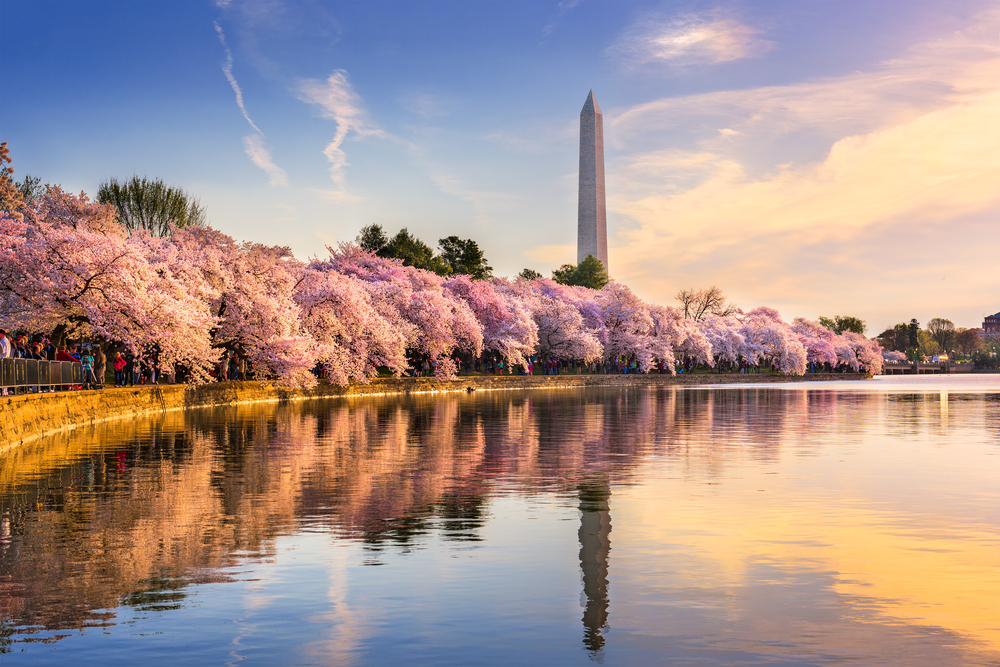 Pop-ups have been a huge trend in the United States lately. There was the ice-cream museum that is still doing tours around the country and popping up for certain dates. Everyone wants to be cool and get that first Instagram photo among their friends and family to enjoy a huge pop-up or unique place that you can't always go to. In Los Angeles pop-ups have been popular for some time. As a matter of fact, some pop-ups have been so popular that they actually permanently stayed a business. One of the best examples of a pop-up that became permanent is the Star Wars bar in Hollywood. This bar was so popular that it is here to stay (well until the owner decided to pull it up) and it's been around for years. Rumor has it that this DC Cherry Blossom bar is so amazing that we should all be hoping it's permanent so we can all get a chance to go there and enjoy the atmosphere and specialties they serve.
Supposedly the pop-up was just being held from March through April, but we are hoping they will reconsider and open it up again to enjoy. We also are hoping that they will tour the company if they don't put the bar permanently in DC. The bar itself had amazing Japanese drink inspired cocktails that everyone on social media was just overwhelmed but in a good way.
The reason it was Sakura (cherry blossom) themed was that the peak bloom season in DC is in March/April. So it only made sense to celebrate the beautiful nature with a fantastic and hip bar. This is one of the most ostentatious pop-up bars to date. Filled with tons of cherry blossoms, 90,000 cherry blossoms to be correct, and a perfectly serene atmosphere to enjoy a nice drink.
The bar was open to celebrate the Cherry Blossom Festival and it wasn't just a random person who came up with the bar. No the United States and Japan joined together in one awesome partnership to make this cherry blossom dream come true. Japan wanted to make sure that enough of the Japanese culture was being represented in the bar. So Japan helped with making sure that it seemed as if the bar was in Japanese teahouse with shoji (paper) walls. If that weren't enough origami cranes lined the establishment. Cranes are known to bring good luck after all.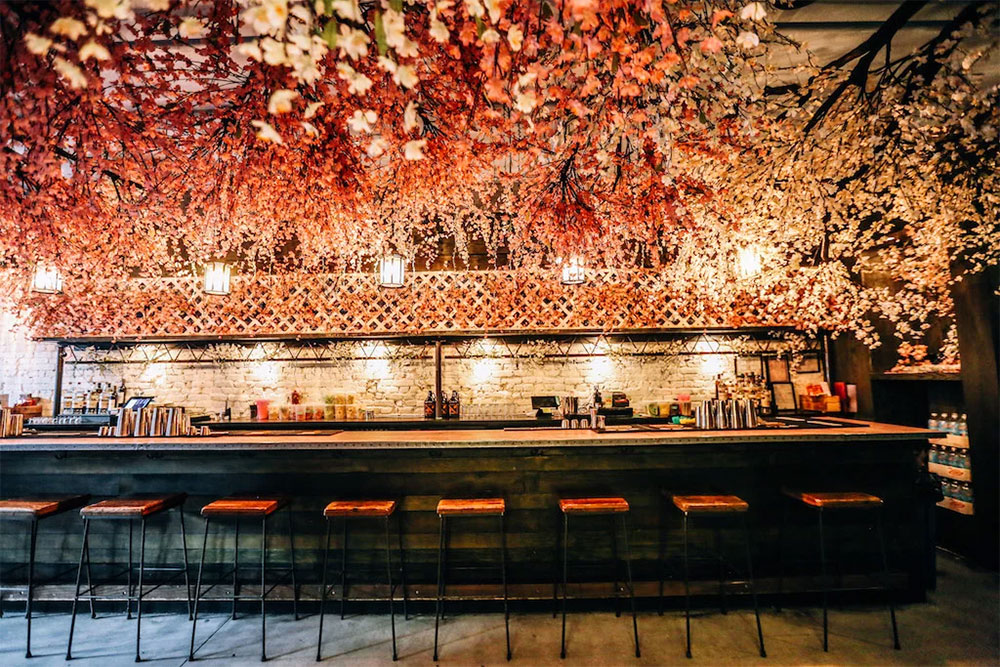 Speaking of lucky, the Japanese and United States makers of this creative bar wanted to make sure that the pop-up would go over well and be extremely lucky so the cranes weren't the only good luck charm in the bar. The stereotypical and beautiful percaline Maneki-Neko or otherwise known as lucky cats decorated the bar! Puurrrfect for cat lovers and lovers of Japanese culture alike.
They literally went all out with decorating this fabulous bar. There was a garden room covered in 1,300 butterflies! Some of those decorative butterflies even had flapping wings to make them seem more realistic. Attention to detail was within every room and inch of the Cherry Blossom bar.
When I say that details were all over this place I mean it! They had a famous artist Andrew Herndon construct a 10-foot Godzilla. You say to me, " Oh wow a 10-foot Godzilla made by an artist. Big deal." Well, it actually and literally was a big deal. Not only for the 10 feet that were all of the artistically crafted Godzilla but also because it was an animatronic Godzilla. The Godzilla would fiercely welcome patrons to the Cherry Blossom bar in DC by rumbling and blowing or puffing out smoke from its' mouth. Andrew Herndon told everyone that his inspiration for the Japanese Godzilla didn't come from Japan. Instead, the inspiration came from Game of Thrones the popular T.V. show. He designed it to be like the smoke-breathing dragon from Game of Thrones. Then there was another little touch he added. Godzilla's moth-like nemesis called Mothra. You can't have Godzilla without a nemesis now, can you? I personally believe they chose Mothra to match the garden room, but I'm sure others have their own theory on it.
There was also a bar space that looked like a street or alley in Tokyo. This area had amazing street food and it had long lines, because of how good it was. The tickets to get into this pop-up were around 20.00 a person plus you had to buy your own food and cocktails. One of the top cocktails from the Cherry Blossom bar is Loved Crazed Monster Crushes World which is really amazing Suntory Toki Japanese Whiskey, vermouth and bergamot tea. They also had the popular Japanese drink called Calpico. For those of you who have never had the pleasure of having one, it's a yogurt soda. Then they had a bevy of exclusive cocktails with the Calpico in it. Some drinks were even garnished with a cute little rice crispy trying to keep with an American and Japanese influence.
This bar was off the charts amazing and hopefully, it will be here to stay or at least travel the country. However, with as much detail as they put into this you would think they would want it to stick around awhile.